Creative Team Coaching (CTC)
is an innovative team coaching method that makes possible the continuous development of managers.
is based on current scientific knowledge and application-oriented studies on the one hand, and on decades of practical experience of advisors and managers on the other.
has a standardized methodology, making it easy to learn.
makes it possible for 5-6 participants to engage with one participant's situation at a time, with the goal of benefitting from the different perspectives in the group.
Potential Applications of the CTC:
To support general or specific Human Resource Development measures (e.g. leadership): Participants have follow-up training during which they engage with the practical implementation of the material they have learned. Personal goal setting and action plans for further development are worked out in coaching sessions.
To support change processes: Participants develop solutions for difficult tasks/emotional reactions during the change process.
Advantages of the CTC over other Human Resource Development Measures:
Simultaneously promotes the sustainable learning processes and learning transfer of all participants by working with a very wide variety of practical examples.
Thanks to its internal implementation with numerous participants, the method generates high benefits at a low cost.
Detection of the challenges you face.
Implementation of the CTC.
- Background
- Methodology
- Training of Moderators
Moderation of initial sessions.
Continuous evaluation of participants' learning progress.
Location & approach
Coming from the west: B 1, exit Dortmund-Mitte (WDR/ZVS), then twice right on Wittekindstraße. At the trafic light straight ahead. First road on the right (Querstraße), which lead onto Hohe Straße. Turn right. After next trafic light pass the subway station and then turn right to the Zentrum für Weiterbildung (signposted).
Attention: Do not drive into the underpass!
Coming from the east: B 1, exit Ruhrallee (B 54) direction Dortmund-Mitte/Lünen until the next trafic light. Turn left into Markgrafenstraße. Drive Markgrafenstraße straight ahead until the trafic light at Hohe Straße. Turn left and pass the subway station and then turn right to the Zentrum für Weiterbildung (signposted).
Attention: Do not drive into the underpass!
The closest subway stations are Polizeipräsidium and Westfalenhallen. Both can be reached by the subway line U45/U46. There is also a bus stop (bus 450) at Westfalenhallen.
From Dortmund Airport you can take the AirportExpress to Dortmund Hauptbahnhof (central station, 20 minutes). From there you can reach us via the subway U45 to Westfalenhallen. Exit at Westfalenhallen. You can also travel by train from Dusseldorf Airport to Dortmund Hauptbahnhof.
The facilities of TU Dortmund University are spread over two campuses, the larger Campus North and the smaller Campus South. Additionally, some areas of the university are located in the adjacent "Technologiepark".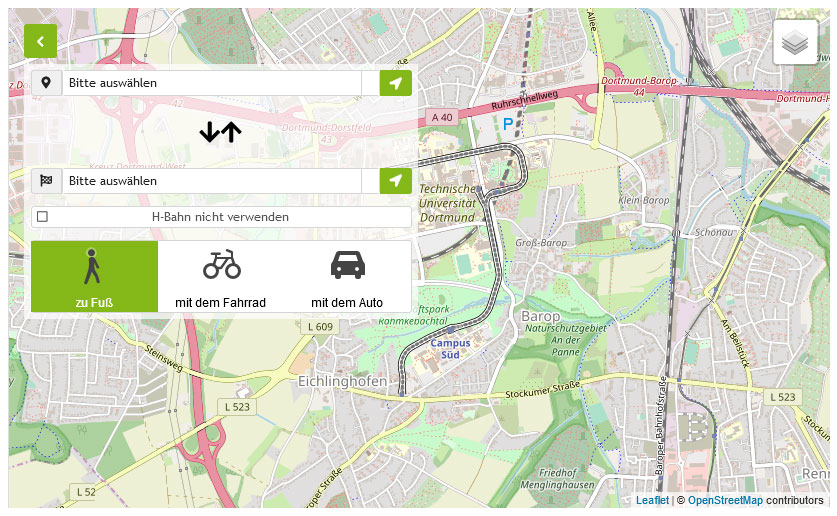 Zum Lageplan