What happens when teams start to lead themselves? Can this be reconciled with the typical model of hierarchical leadership? And can this perhaps even have advantages for companies? The chair is investigating these questions within the framework of several research projects. Shared leadership is a dynamic and interactive process in which the members of a team lead themselves towards an (organizational) goal (Pearce & Sims, 2002). In this context, shared leadership is not intended to replace formal leadership, but rather to be used as a complement to it. In a longitudinal study, it was shown that transformational leadership of the team leader and high trust in the team increased shared leadership. Furthermore, shared leadership had a positive effect on team performance and team creativity (Klasmeier & Rowold, 2019). The chair's other research focuses on investigating the motivational potential and health-promoting effects of shared leadership.
Literature:
Klasmeier, K. N., & Rowold, J. (2019). Just share it? A multilevel investigation on predictors and outcomes of shared leadership. Vortrag 19th Congress European Association for Work & Organizational Psychology (EAWOP), Turin, Italien.
Pearce, C. L., & Conger, J. (2003). Shared leadership: Reframing the hows and whys of leadership. Thousand Oaks, CA: Sage.
Location & approach
Coming from the west: B 1, exit Dortmund-Mitte (WDR/ZVS), then twice right on Wittekindstraße. At the trafic light straight ahead. First road on the right (Querstraße), which lead onto Hohe Straße. Turn right. After next trafic light pass the subway station and then turn right to the Zentrum für Weiterbildung (signposted).
Attention: Do not drive into the underpass!
Coming from the east: B 1, exit Ruhrallee (B 54) direction Dortmund-Mitte/Lünen until the next trafic light. Turn left into Markgrafenstraße. Drive Markgrafenstraße straight ahead until the trafic light at Hohe Straße. Turn left and pass the subway station and then turn right to the Zentrum für Weiterbildung (signposted).
Attention: Do not drive into the underpass!
The closest subway stations are Polizeipräsidium and Westfalenhallen. Both can be reached by the subway line U45/U46. There is also a bus stop (bus 450) at Westfalenhallen.
From Dortmund Airport you can take the AirportExpress to Dortmund Hauptbahnhof (central station, 20 minutes). From there you can reach us via the subway U45 to Westfalenhallen. Exit at Westfalenhallen. You can also travel by train from Dusseldorf Airport to Dortmund Hauptbahnhof.
The facilities of TU Dortmund University are spread over two campuses, the larger Campus North and the smaller Campus South. Additionally, some areas of the university are located in the adjacent "Technologiepark".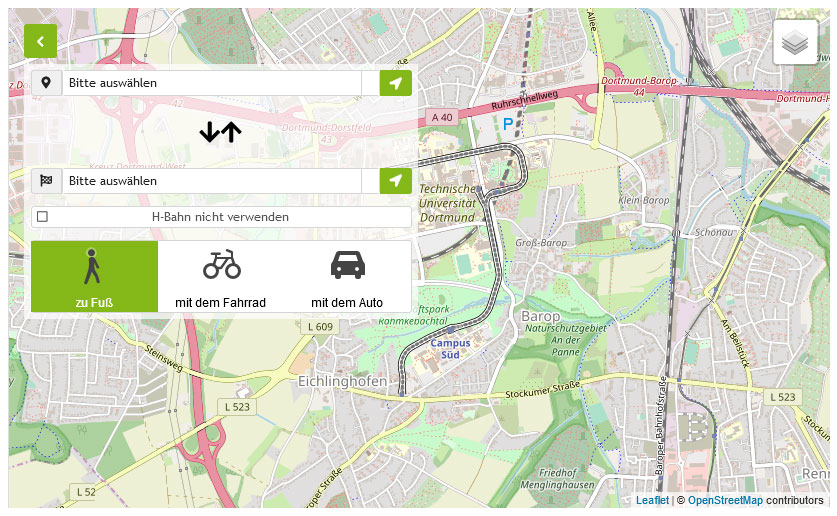 Zum Lageplan