The Department for Human Resource Development and Change Management at the Center for Higher Education is a renowned point of contact for training programs, consultation, and diagnostic tools.
Professor Jens Rowold's team transfers current scientific knowledge into practice in order to address the challenges faced by our collaborative partners from commercial enterprises and management companies. As a service provider with scientific skills, we develop custom-made solutions and data collection methods. We conduct diverse teaching modules through innovative seminars, special coaching programs, and advisory consultations, either at the Center for Higher Education at TU Dortmund University or, if required, on site.
We support Human Resource managers in medium-sized businesses with the further development of their employees. Thanks to our diverse practical experience, we can offer our proven diagnostic tools and testing methods not only to commercial enterprises, but also to educational institutions and public bodies. Our work is carried out on the basis of scientific methods and analysis, allowing us to develop and calibrate specific, substantiated solutions for each client and organization.
Everything we offer is based on the results of current research and its use in practice. Our development services are subject to continuous evaluation, especially with regard to considerations of cost-benefit and sustainability.
Location & approach
Coming from the west: B 1, exit Dortmund-Mitte (WDR/ZVS), then twice right on Wittekindstraße. At the trafic light straight ahead. First road on the right (Querstraße), which lead onto Hohe Straße. Turn right. After next trafic light pass the subway station and then turn right to the Zentrum für Weiterbildung (signposted).
Attention: Do not drive into the underpass!
Coming from the east: B 1, exit Ruhrallee (B 54) direction Dortmund-Mitte/Lünen until the next trafic light. Turn left into Markgrafenstraße. Drive Markgrafenstraße straight ahead until the trafic light at Hohe Straße. Turn left and pass the subway station and then turn right to the Zentrum für Weiterbildung (signposted).
Attention: Do not drive into the underpass!
The closest subway stations are Polizeipräsidium and Westfalenhallen. Both can be reached by the subway line U45/U46. There is also a bus stop (bus 450) at Westfalenhallen.
From Dortmund Airport you can take the AirportExpress to Dortmund Hauptbahnhof (central station, 20 minutes). From there you can reach us via the subway U45 to Westfalenhallen. Exit at Westfalenhallen. You can also travel by train from Dusseldorf Airport to Dortmund Hauptbahnhof.
The facilities of TU Dortmund University are spread over two campuses, the larger Campus North and the smaller Campus South. Additionally, some areas of the university are located in the adjacent "Technologiepark".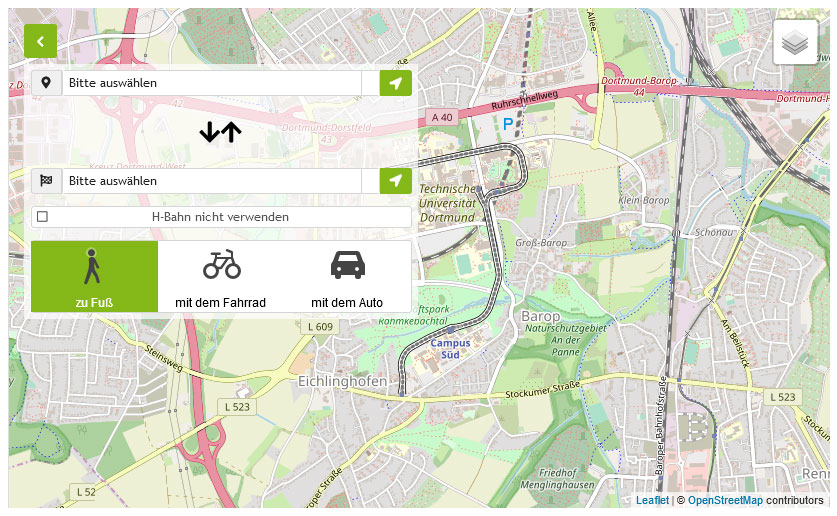 Zum Lageplan