Organizational Analysis/Employee Surveys
Information
By detecting the status quo in a company, organizational analysis constitutes a necessary foundation for organizational development.
It is therefore the foundation for decisions regarding:
- the initialization of Human Resource Development measures
- process optimization
- change management measures
- culture/mission statement development.
Possible Contents of Organizational Analysis:
Analysis of communication structures in the company.
Analysis of leadership behavior in the company.
Analysis of company culture.
Analysis of confidence in management.
Analysis of commitment to the organization.
Analysis of health management/work-life balance.
Methods
Employee surveys, interviews, random sample observations, workshops with work groups.
Identification of Goals
What is the purpose of the analysis? Which information is of strategic significance?
Planning
Development of the survey tools/interviews, etc.
Implementation
Announcement of measures, carrying out of interviews, observations, online implementation of the employee survey.
Information about Results
Target group-specific presentation of results for various groups of stakeholders.
Optional: Derivation of an appropriate course of action.
Location & approach
Coming from the west: B 1, exit Dortmund-Mitte (WDR/ZVS), then twice right on Wittekindstraße. At the trafic light straight ahead. First road on the right (Querstraße), which lead onto Hohe Straße. Turn right. After next trafic light pass the subway station and then turn right to the Zentrum für Weiterbildung (signposted).
Attention: Do not drive into the underpass!
Coming from the east: B 1, exit Ruhrallee (B 54) direction Dortmund-Mitte/Lünen until the next trafic light. Turn left into Markgrafenstraße. Drive Markgrafenstraße straight ahead until the trafic light at Hohe Straße. Turn left and pass the subway station and then turn right to the Zentrum für Weiterbildung (signposted).
Attention: Do not drive into the underpass!
The closest subway stations are Polizeipräsidium and Westfalenhallen. Both can be reached by the subway line U45/U46. There is also a bus stop (bus 450) at Westfalenhallen.
From Dortmund Airport you can take the AirportExpress to Dortmund Hauptbahnhof (central station, 20 minutes). From there you can reach us via the subway U45 to Westfalenhallen. Exit at Westfalenhallen. You can also travel by train from Dusseldorf Airport to Dortmund Hauptbahnhof.
The facilities of TU Dortmund University are spread over two campuses, the larger Campus North and the smaller Campus South. Additionally, some areas of the university are located in the adjacent "Technologiepark".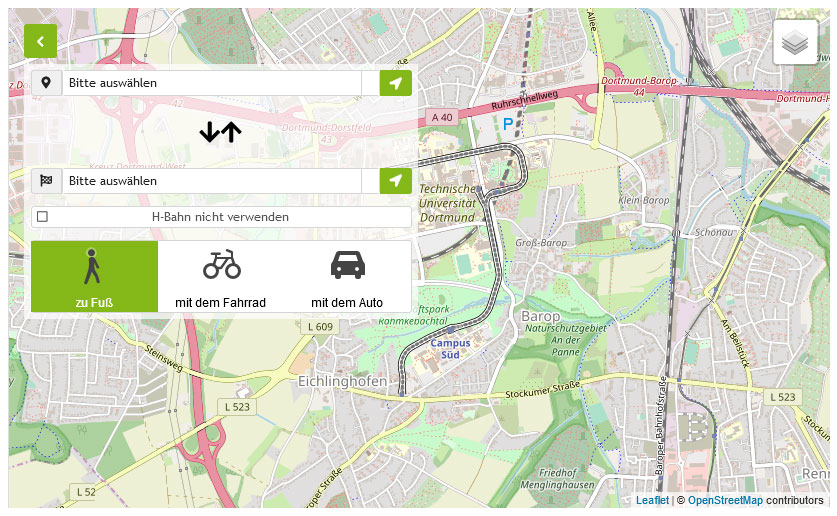 Zum Lageplan